University of Oregon
Northern Great Basin Prehistory Project
Archaeological Field School
2017 Summer Session
In 2017, the University of Oregon Archaeology Field School will take place at two locations. From June 26 through August 4, Dr. Dennis L. Jenkins will be teaching archaeology field methods at Connley Caves. The Connley Caves site is composed of 8 caves and rockshelters located in the Connley Hills of the Fort Rock basin some 10 miles south of the town of Fort Rock. These caves were first professionally investigated by Stephen Bedwell who radiocarbon dated charcoal in a Western Stemmed cultural component to as much as 11,200 14C BP (13,000 calibrated years ago).
Rimrock Draw Rockshelter is the site where Dr. Patrick O'Grady will also be teaching archaeology field methods from June 26 through August 4. Currently in the sixth year of excavation, Rimrock Draw is a modest rockshelter with deep deposits where an orange agate stone tool was recovered beneath a lens of Mt. St. Helens volcanic ash that dates to 13,000 radiocarbon years in age.
learn more here>>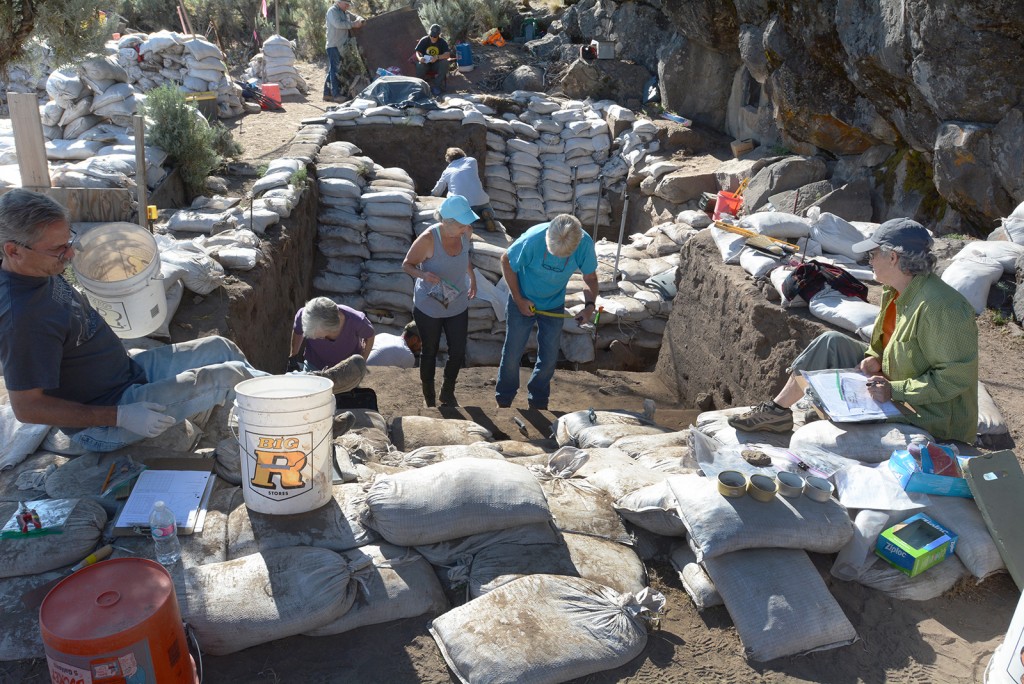 Rimrock Draw Rockshelter 2016 Season        Photo by David L. Minick / Total Access
Oregon State University Anthropology Field Schools
Cooper's Ferry Archaeology Field School, led by Dr. Loren Davis, will be returning to resume excavations at the Cooper's Ferry site in the summer of 2017. The Cooper's Ferry site is located in the beautiful lower Salmon River canyon of western Idaho and contains some of the earliest evidence of humans in the Pacific Northwest.
learn more here>>
Portland State University Field School at Fort Vancouver

Portland State University, Washington State University Vancouver, and the National Park Service are pleased to offer an annual field school in historical archaeology at Fort Vancouver National Historic Site. The program introduces the method and theory of fieldwork in historical archaeology.
learn more here>>
Shumla Archaeological Research and Education Center 
Shumla is a global leader in rock art research and education. We use advanced science and technology in our fight to preserve the information held in the oldest "books" in North America — the endangered murals of the Lower Pecos Canyonlands of Texas.
learn more here>>
Passport in Time 
The goal of PIT is to preserve the nation's past with the help of the public. As a PIT volunteer, you contribute to vital environmental and historical research on public lands. A program of the US Forest Service
learn more here>>
Archaeology Fieldwork
Worldwide listing of archaeology and anthropology field schools.
learn more here>>