The Oregon Archaeological Society Press
The Society has published reports on various archaeological sites and topics since 1959.
They are written through the efforts of Society volunteers, with the guidance of professional archaeologists.
OAS accepts Paypal for online orders. Simply click the "Add to Cart" button to add items, then follow the instructions for completing your payment through PayPal.
If you want to pay by mail, download and print the book order form here:
book_order_form_05.22.2015
Send the order form and a check or money order to:
Oregon Archaeological Society
P.O. Box 13293 Portland, Oregon 97213
Full payment must be received before items can ship.
Shipping and handling (unless otherwise specified) is $4.00 per book.
If you have any questions about OAS publications, shipping costs, or for wholesale pricing,
email us at oaspress@oregonarchaeological.org
Many of these items are also available at monthly meetings.
NEW FROM THE OAS PRESS: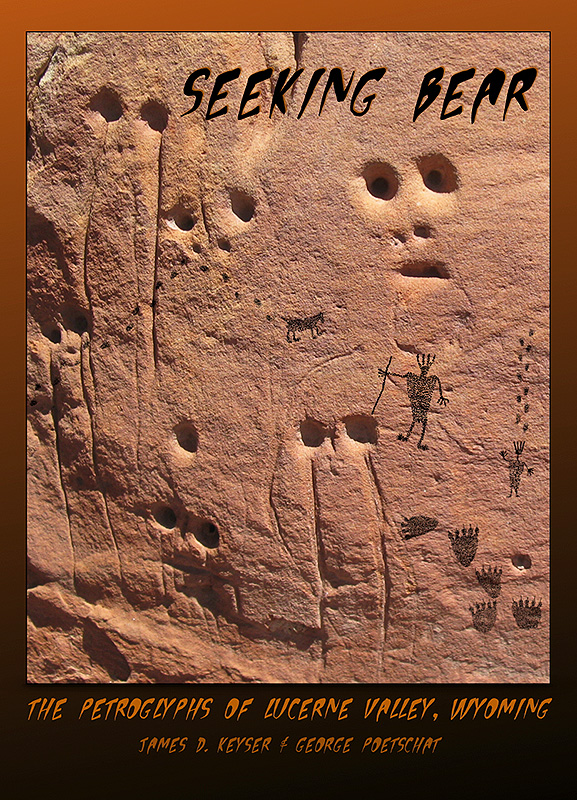 Seeking Bear: The Petroglyphs of Lucerne Valley, Wyoming
James D. Keyser and George Poetschat
Carved on the red sandstone cliffs of the Lucerne Valley, just west of the Flaming Gorge in far southwestern Wyoming, is an incredible collection of prehistoric and historic Indian petroglyphs that reflect the use of this area by ancient peoples for more than 3,000 years. Millennia ago the earliest artists carved images on these cliffs to petition the spirits of bears, elk, bison, and bighorn sheep for the supernatural powers that they believed existed here.
The authors, who together have more than 50 years' experience studying and interpreting Plains rock art, provide an exciting look into the past lives of the ancient artists who drew these pictures to illustrate the stories of their long-ago lives.
8.5" x 11", 236 pages, 90 figures, 14 tables and two pages of color plates.
ISBN #978-0-9915200-1-5. OAS Publication #23.
Price: $23.00 plus $5.00 Shipping and Handling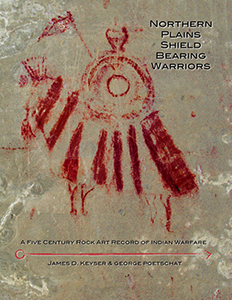 Northern Plains Shield Bearing Warriors – A Five Century Rock Art Record of Indian Warfare
James D. Keyser and George Poetschat
The shield bearing warrior is the best-known and most
widespread motif in Northern Plains Indian rock art. Found throughout the region from Calgary, Alberta to Denver, Colorado, and from the Green River to the Black Hills these warriors
memorialize a bygone style of warfare once common across the Great Plains of North America.
Using the data collected and compiled for these warrior images, the authors provide a detailed reconstruction of how Plains warfare was conducted from Late Prehistoric period times until all Plains tribes had ready access to horses and Euro-Americans first saw and described these impressive mounted warriors of the Plains.
Co-Published by the Indigenous Cultures Preservation Society
8.5" x 11", 314 pages
ISBN#: 978-0-9915200-0-8
Price: $25.00 plus $6.00 Shipping and Handling.

Fraternity of War: Plains Indian Rock Art at Bear Gulch and Atherton Canyon, Montana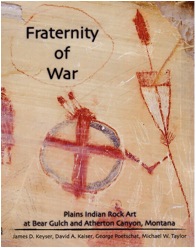 James D. Keyser, David A. Kaiser, George Poetschat, Michael W. Taylor
Detailed field recordings were done in 2005 and 2007 along with 2007 test excavation in the area below the rock art. Analysis has been ongoing starting in 2005 and culminating with this publication in 2012. This massive amount of information lays the basis for future in-depth analyses of Shield Bearing Warriors on the Northern Plains.
8.5" x 11", 456 pages. Over 350 Maps, Photographs, and Drawings
ISBN#: 978-0-9764804-9-5
Price: $31.00  plus $6.00 Shipping and Handling.
    
Companion CD to Fraternity of War:
Bear Gulch & Atherton Canyon Rock Art Database
This companion CD to Fraternity of War contains all the Indian Rock Art at these two sites. The Database contains over 1000 SBWs individually identified plus all the nearly 1000 scanned tracings of the rock art panels that comprise the complete details of these sites. In addition V-neck Humans, Other Humans, many of the animals, birds and cultural items have also been extracted from the various panels and places on the Database. Finally each SBW, V-neck Human and Other Humans has been specifically located on each specific panel by number and location arrow to allow the user to visually see these items in context on the specific panels.
Price: $6.00 plus $1.00 Shipping and Handling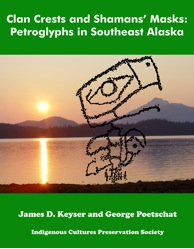 Clan Crests and Shamans' Masks: Petroglyphs in Southeast Alaska
James D.Keyser and George Poetschat
The Prince of Wales Island west of Ketchikan, Alaska has a long history of occupation by Tlingit First Nations People and they have left numerous petroglyphs bearing witness to their cultural and spiritual lives. Kosciusko Island is just off the northern coast of Prince of Wales Island and was the focus of rock art recording during the summers of 2002 and 2004.
8.5" x 11",104 pages. Over 60` Maps, Photographs, and Drawings ISBN#: 978-0-9853354-0-3
Price: $16.00  plus $4.00 Shipping and Handling.


Rock Art of the Oregon Country Honoring the Lorings' Legacy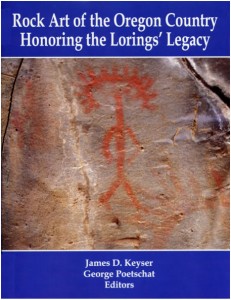 Collected Papers in Oregon Rock Art
James D. Keyser and George Poetschat, Editors
Rock art studies include recording and interpretation of the images as well as ethnographic research into their use and purpose. These collected papers honor Malcolm and Louise Loring, pioneer rock art researchers who providedthe first comprehensive documentation of hundreds of sites in the Oregon Country. In this work we carry on the tradition of the Lorings by recording new sites. 8.5"x11", 128 pages. Over 90 Maps, Photographs, and Drawings. ISBN# 978-0-9764804-8-8.
Price: $16.00  plus $4.00 Shipping and Handling.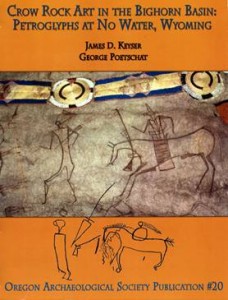 Crow Rock Art in the Bighorn Basin: Petroglyphs at No Water, Wyoming (OAS Publication #20) 
By: James D. Keyser and George Poetschat with Contributions by Amanda Derby and David A. Kaiser.
Carved in the driest part of the southern Bighorn Basin is a remarkable rock art record attesting to the spiritual use of this area by both Shoshone and Crow people for more than 500 years.
In 2007 the No Water site, located east of Lucerne in Wyoming's Bighorn Basin, was documented by James D. Keyser and a group of Oregon Archaeological Society volunteers.  This report documents the petroglyphs at this site which include all of the above events and more in the picture-writing of the Plains Indian Biographic Art. 8.5" x 11" , 120 pages Perfect Bound  with Over 50 Maps, Photographs, and Drawings.
Price: $16.00  plus $4.00 Shipping and Handling.
read more…
Visions in the Mist: The Rock Art of Celilo Falls (OAS Publication #17)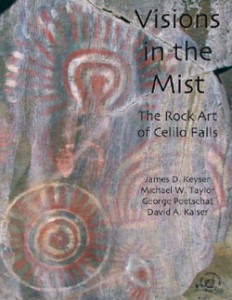 By: James D. Keyser, Michael W. Taylor, George Poetschat, David A. Kaiser.
For thousands and thousands of years people have lived, fished, and celebrated their spiritual beliefs near the thundering waters of Celilo Falls. The falls, a major Indian fishing ground since prehistoric times, were inundated in 1957 by the filling of the pool behind The Dalles Dam. Between 2000 and 2007 a team of professional archaeologists and volunteers scientifically analyzed and recorded 10 rock art sites near Wishram, WA. This important volume presents the information gathered during the project including many of the actual images themselves. Published in 2008. Softbound, richly illustrated with over 50 photos, drawings, and maps, 100+ pages.
Price: $16.00  plus $4.00 Shipping and Handling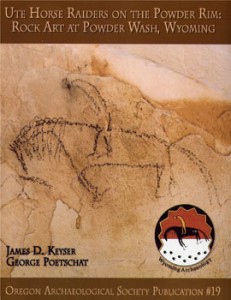 Ute Horse Raiders on the Powder Rim:
Rock Art at Powder Wash, Wyoming (OAS Publication #19) 
Authors:James D. Keyser, George Poetschat, Russel L. Tanner, Mavis Greer, John Greer.
Powder Wash is in South Central Wyoming only a few miles from the Colorado border and contains both rock art and wooden structures such as wickiups and a large corral.The publication describes and analyzes the rock art leading to the conclusion that the Ute Indian horse raiders made much of this art. Images also include petroglyphs, one red painted horse, and a striking image of a medicine bundle. Published in 2008. 112 pages with over 70 maps, photographs, and drawings.
Price: $16.00  plus $4.00 Shipping and Handling

Talking With the Past: The Ethnography of Rock Art (OAS Publication #16)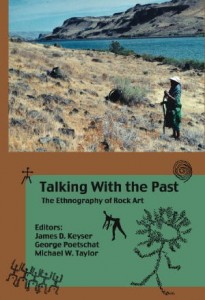 Editors: James D. Keyser, George Poetschat, Michael W. Taylor.
Clottes, Lewis-Williams, Keyser, Whitley, Hays-Gilpin and rock art scholars from around the world talk with traditionalist Indian elders to exchange knowledge about the roles of rock art in the lives of ancient people.6" x 9", perfect bound soft cover, 380+pages. Richly illustrated with photos and drawings including two pages of color plates.
Price: $26.00  plus $4.00 Shipping and Handling.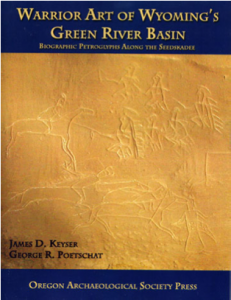 2011 Edition Warrior Art of Wyoming's Green River Basin: Biographic Petroglyphs Along the Seedskadee (OAS Publication #15)
by James D. Keyser and George R. Poetschat.
Rock Art sites along the Oregon Trail, including Names Hill, South Piney, and La Barge Bluffs contain hundreds of ancient rock art images. These fantastic images, created by the Plains Shoshone Indians, include both ceremonial and biographic subjects. The Green River, known to the resident Shoshones as Seedskadee Agie, flows through a high Plains-like Basin that was the crossroads of North America during three hundred years of the Historic period. The petroglyphs at these sites document all of these events and more in the picture-writing of Plains Indian Biographic Art. Published 2005, 2011. Soft back, 210 pages with 91 figures. The 2011 Revised Edition includes a new cover and an Appendix discussing an additional elk found at the Gateway Site. It also contains expanded discussion on elk in Plains Rock Art.
Price: $21.00  plus $4.00 Shipping and Handling
Echoes of the Ancients, Rock Art of The Dalles-Deschutes Region (OAS Publication #14)

Edited by members James D. Keyser, Michael W. Taylor and George Poetschat. Many OAS members helped author and research the material in the new book.
The Dalles-Deschutes region of the Columbia River, located in the heart of the Columbia Plateau, was a center of prehistoric human habitation for more than 10,000 years. Echoes of the Ancients honors these people by sharing a bit of their history, culture, and spirituality with newer generations. Soft back, 130 pages with 82 figures and 15 color plates.
Price: $16.00  plus $4.00 Shipping and Handling  


Columbia Plateau Rock Art (OAS publication #11) In    Oregon – The ButteCreek Sites: Steiwer Ranch, Rattlesnake Shelter. In Washington – Owl Cave.  
This report is the culmination of an OAS rock art recording and documentation project under the supervision of James D. Keyser, OAS past president and former Forest Service regional archaeologist.
The three sites contain some of the most spectacular rock art in the Columbia Plateau with more than 400 images that include several spirit figures and the westernmost Biographic rock art yet discovered. Owl Cave contains the deepest dark zone rock art in the region, and is one of the very few dark zone rock art sites in western North America. In addition to describing the sites and motifs, the report discusses the function, age and cultural relationships of the rock art.  It contains 116 pages and 87 figures that illustrate rock art from these sites and comparable images from across the western U.S.
Price: $16.00  plus $4.00 Shipping and Handling
Wakemap Mound (OAS Publication #1)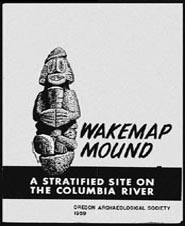 A stratified Site on the Columbia River and nearby sites on the Long Narrows of the Columbia River.  This text covers a famous site near Petroglyph Canyon which was excavated by the University of Washington in 1954 and succeeding years. Published in 1959. 44 pages.
Price: $6.00  plus $4.00 Shipping and Handling
General Reference Guide (OAS Publication #5)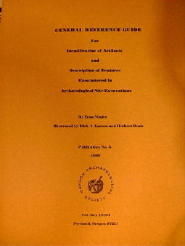 Identification of Artifacts and Descriptions of Features Encountered in Archaeological Site Excavations. This illustrated guide covers both prehistoric and contact period artifacts from a number of OAS excavation projects on the Lower Columbia River in the 1960's and 1970's. 22 pages.
Price: $3.00  plus $4.00 Shipping and Handling

OUT OF PRINT Shoto Clay: Figurines and Forms from the Lower Columbia (OAS Publication #4)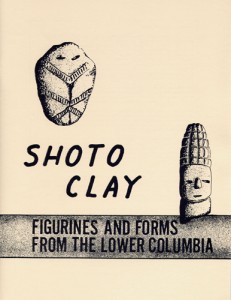 By Robert G. Slocum and Kenneth H. Matsen
"ShotoClay" contains photos and description of this excavation that documented "clay" artifacts at 45CL41, the Herzog Site, that is named after property's owner, Mr. C. Herzog River of Felida, in SW Washington. The site was excavated by OAS Members between 1964 and 1966. This 2002 edition includes an update to the report by Dr. Alison Stenger. She explains that the "clays" are actually ceramics from a people that we have no other knowledge about, and they are not the historic Native peoples that are in the area today. Published in 1968, updated edition 2002.
Price: $3.00  plus $4.00 Shipping and Handling.
OUT OF PRINT